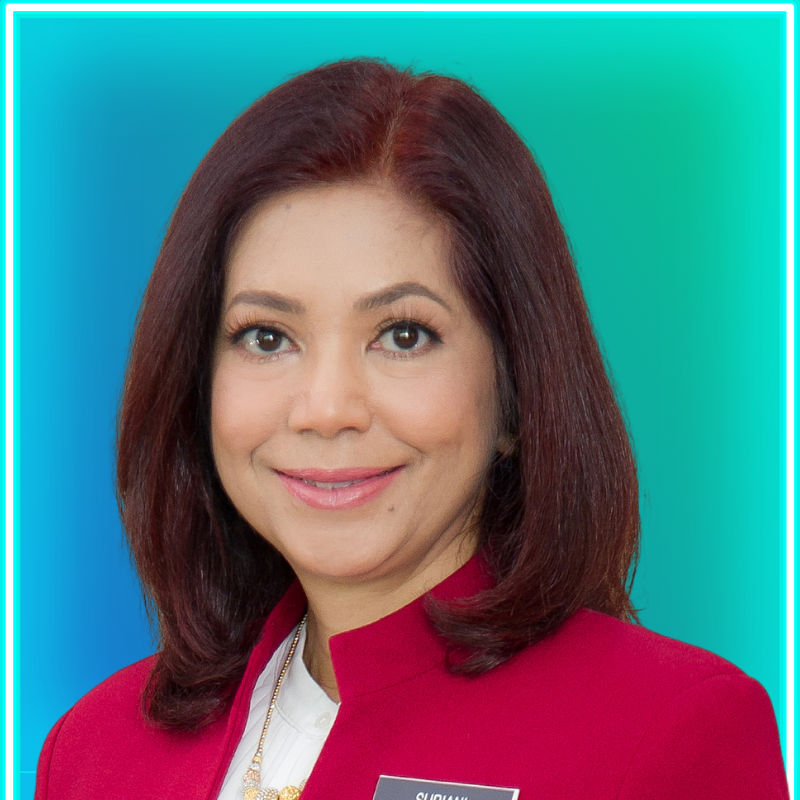 YBhg. Dato' Suriani binti Dato' Ahmad
Secretary General
Ministry of Entrepreneur Development and Cooperatives (MEDAC)
Born in Perlis on July 25th 1968, Dato' Suriani graduated from Universiti Sains Malaysia (USM) in 1993 with Bachelor Degree in Communications (Honours). She then later completed her Master of Arts in Strategy and Diplomacy from Universiti Kebangsaan Malaysia in 2006.

She started her professional career journey in BERNAMA where she worked as Editorial Executive after she completed her degree in 1993.

In 1994, Dato' Suriani joined the Administrative and Diplomatic Service where she was first posted at Malaysian Administrative Modernisation and Management Planning Unit (MAMPU) in Prime Minister's Department. Upon completing her Diploma in Public Management in 1996, she was in the top 10 of her class and obtained an excellence award.

It is fair to say that Dato' Suriani has a vast experience in trade and industry as she had served in Ministry of International Trade and Industry (MITI) for 12 years. Before being appointed as the Special Officer to the Minister of International Trade and Industry in 2006, she was the Assistant Secretary for Bilateral and Regional Division as well as ASEAN Economic Cooperation Division. She has also served as Principal Assistant Director at the Multilateral Trade and Policy Division and in 2008, she was promoted as the Director. Later that year, she was trusted to lead the FTA Policy and Negotiations Coordination Division as the Director.

In 2009, under the Prime Minister's cross fertilization program, she was selected to be the Manager for the Corporate Planning Division of Proton Holdings for one year. Upon her return, she was posted to the Ministry of Defence (MinDef) where she undertook the post of Undersecretary and was later promoted to Deputy Secretary General (Policy) in 2014.

In 2015, she was transferred to the Ministry of Home Affairs (KDN) as the Deputy Secretary General for Policy and Control and she was then promoted as the Secretary General for the Ministry of Women, Family and Community Development (KPWKM) on 2017. In 2018, Dato' Suriani became the Director of the National Institute of Public Administration (INTAN) and on July 1st 2019, she was appointed as the Secretary General of Ministry of Communications and Multimedia Malaysia (KKMM). As of November 4th 2020, Dato' Suriani is now the Secretary General of Ministry of Entrepreneur Development and Cooperatives (MEDAC).

Her excellent contributions had won her several awards in the organization she served including Best Officer Award (1999) and Excellent Employee Award (2000). Dato' Suriani has been conferred by the Raja of Perlis two state awards, namely the 'Darjah Ahli Mahkota Perlis' (AMP) in 2006 and the 'Darjah Seri Sirajuddin Perlis' (DSSP) in May 2012. In 2015, she was conferred the 'Darjah Indera Mahkota Pahang' (DIMP) from the Sultan of Pahang.

Dato' Suriani is married and blessed with 3 children. She loves reading and her favorite pastime is travelling.