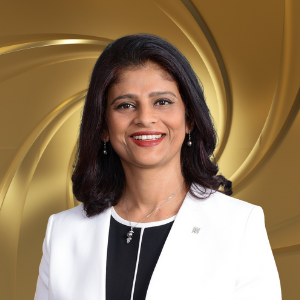 Group CEO & Executive Director, Manulife Holdings Berhad
Vibha Coburn is Group Chief Executive Officer/Executive Director of Manulife Holdings Berhad and Chief Executive Officer/Executive Director of Manulife Insurance Berhad since 1 October 2020. She also sits on the Board of Manulife Investment Management (M) Berhad.
She was formerly the Regional Chief Distribution Officer for Manulife Asia, responsible for developing and executing strategy for Manulife distribution across Asia. Under her leadership, Manulife's agency force grew significantly and became the world's third best amongst multi nationals in terms of Million Dollar Round Table (MDRT) membership. At the same time, she has helped to vastly strengthen Manulife's bancassurance capabilities, delivering strong growth to its regional partnerships, and renewing or establishing new partnerships in Vietnam, Indonesia and Myanmar. Vibha has also championed the development and adoption of digital channels and tools throughout the region.
Prior to joining Manulife, Vibha had a wide range of roles in over 30 years in banking, insurance and management consulting, across Asia, Europe and Australia. These included roles in strategy, business management, e-business, sales & marketing, finance, wealth management and consumer banking.
Vibha holds a Master of Business Administration from the University of Western Australia, post graduate diploma from the Securities Institute of Australia (CFA equivalent) and a Bachelor of Commerce (Hons) from Delhi University.