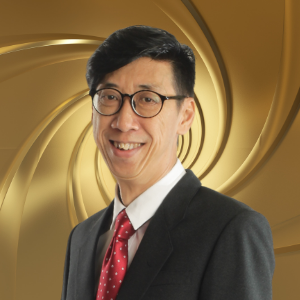 President of PEPS Malaysia
Sr Michael K K KONG is a Registered Valuer, Estate Agent and Property Manager in Malaysia, a Chartered Surveyor (UK), a Licensed Appraiser (Singapore) and an International Certified Valuation Specialist (Canada). He has also obtained a Certificate in Vessel Valuation from the Lloyd's Maritime Academy (UK).

Michael is a Fellow of the Royal Institution of Surveyors, Malaysia (RISM), a member of The Royal Institution of Chartered Surveyors (RICS) UK and the Singapore Institute of Surveyors and Valuers (SISV), an executive committee (founding) member of the Business Valuers Association of Malaysia (BVAM), Vice President of FIABCI Malaysian Chapter and the current two term President of the Association of Valuers, Property Managers, Estate Agents & Property Consultants In the Private Sector, Malaysia (PEPS) (2018-2022). He is an International Certified Valuation Specialist (ICVS) and a member of the International Association of Certified Valuation Specialists (IACVS) Canada. Michael is also the Honorary Secretary General of ASEAN Valuers Association (AVA) Malaysian chapter and an Associate Member of the Chartered Institute of Arbitrators (CIArb) UK. He is the Founding Partner of Macreal International in Malaysia and a Consultant Valuer to Estate Exchange Consulting in Singapore. Michael was also a former External Examination Moderator for the School of Built Environment, Imperia Institute of Technology and currently an RICS APC assessor and Board of Valuers' TPC examiner.

Michael's area of expertise is in Asset Appraisal (Real Estate, Plant & Machinery, Marine Vessels) and Business Valuation. Throughout his professional career of 27 years, he has undertaken numerous valuation consultancy assignments, both locally and overseas. He has carried out investment appraisals and valuations for clients with properties in South East Asia, China and the Republic of Maldives.

Michael also specializes in litigation support valuation. He has represented several clients as expert witness in the court of law regarding real estate matters.