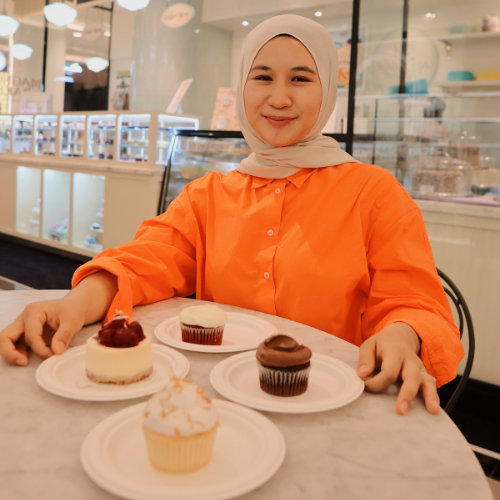 Nor Arieni Adriena
Chief Executive Officer & Founder
Gula Cakery
Arieni first taught herself to bake and cook when she was a teenager with the help of her grandmother's recipe book. After rounds of practice, market-hopping, and a series of family functions later, she created Gula Bakery, a home-based bakery that also offered baking classes as Arieni loves teaching and meeting people. Two years on, Gula Bakery had morphed into Gula Cakery, which opened its doors in September 2015 in Kota Kemuning for guests to enjoy cakes, home-made wholesome food, and comfort under one roof. In 2015, Arieni won a grant of RM500,000 by Unit Peneraju Agenda Bumiputera (TERAJU)
to develop the infrastructure and program for kids baking classes for children as young as three years old.

In April 2017, Arieni opened her second outlet called Gula Petite, a mini version of Gula Cakery in IOI City Mall Putrajaya. Her second brand, Andra by Gula Cakery, was named after her first born son, Andra, with two outlets in Setia Alam and Puncak Alam, which opened in 2018 and 2019 respectively. In 2020, reaching out to more cake fans nearer to the Kuala Lumpur region, Gula Cakery ventured its wings into Tropicana Gardens Mall, Kota Damansara.
Her love for cooking didn't stop at cakes, and again, armed with her secret grandmother's
recipe, she launched Arieni's Roti Jala which specialises in soft fluffy roti jala, served with
either aromatic chicken curry or rich serawa durian. One of its kind, the first outlet in Setia
Alam was opened in Dec 2020 and has freshly made roti jala all day long.

Also in Dec 2020, another special brand was created by Arieni called Gula Creamery. Truly
unique with its tagline "From slice to scoop", Gula Creamery is the first artisan ice cream
shop in Malaysia that serves cake flavoured ice cream, which originated from her signature
cake flavours at Gula Cakery. Customers who love Gula Cakery's double chocolate Nutella,
pandan gula Melaka, berry pavlova, or mango cheesecake; can now find them in a cooler,
melts in your mouth ice cream version! Unstoppable, her next expansion were in locations
that have been long awaited by her followers; KL East Mall Kuala Lumpur in Apr 2021 and
Malaiqa by Gula Cakery in Melaka, in Sep 2022, which was uniquely named after her lovely
daughter.

Arieni also ventured into Mexican food by opening El Ocho, a Mexican eatery in Setia Alam
that serves quesadillas, tacos, fajitas and more. It does not take long for people to fall in love
with El Ocho since people already know the quality, credibility and passion that Arieni has in
making amazing food.

As the CEO of her brands, she currently has almost 200 people running the operations of all
her outlets. She is supported by a strong management team, which includes her husband,
parents, and sister. An inspiring entrepreneur, she has been featured in various newspaper
articles, television programs and interviews, radio interviews as well as magazines.
Arieni holds a Degree in Early Childhood Education, and is professionally trained by the
Malaysian Institute of Baking, Cook'n Class in Italy, and Maison del Excellence in Paris,
France.