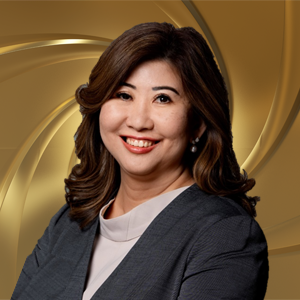 Chief Executive Officer – Country Head, Malaysia 
BNP Paribas Asset Management 

Angelia Chin-Sharpe is Chief Executive Officer and Country Head for Malaysia at BNP Paribas Asset Management. She is also a board member of BNP Paribas Asset Management offices in Malaysia, Hong Kong and Taiwan.
Angelia has been with BNP Paribas Asset Management  since 2007and is responsible for the successful set up on Malaysian business.
Recently, Angelia was awarded as the CEO of the Year by Asia Asset Management "2021 Best of the Best Awards". She was ranked 14th most influential women in Islamic banking and finance in the WOMANi2020 and WOMANi2019 reports. She was ranked 34th in 2018.

Angelia is a seasoned capital market professional with over 20 years of experience in banking, capital markets and asset management. She holds a Bachelor of Commerce, majoring in Accounting from Curtin University of Technology, Western Australia. She has completed her Chartered Islamic Finance Professional exams with INCEIF and is registered as a Chartered Professional in Islamic Finance with The Chartered Institute of Islamic Finance Professionals.

Angelia serves on the board of the Securities Industry Dispute Resolution Centre, Treasurer of the Malaysian Association of Asset Managers, a Member of the Joint Climate Change Committee of the Securities Commission Malaysia and Bank Negara Malaysia and member of the Joint Sustainable Finance Working Group of ASEAN.

When not wearing her corporate hat, Angelia serves the community through The Lost Food Project where she is the President and Founding Committee member. She is also Industry Advisor with Thought for Food, SE Asia.