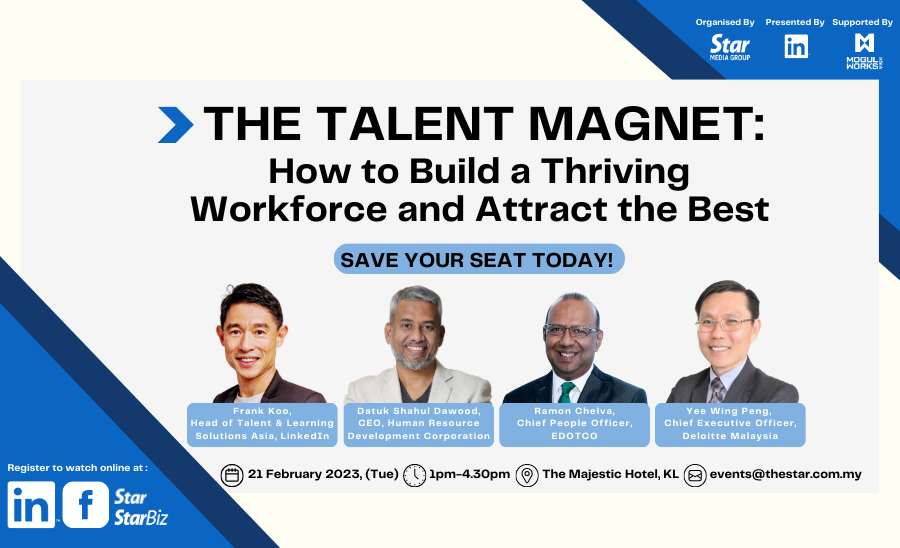 Organisations are often challenged to attract and retain their best workers, and in this fast-evolving climate, a sound talent management plan will be more critical than ever to a company's success.
Talent management is a crucial function in every business. Forward-thinking organisations that take an adaptive approach and continue investing in their most important resource – talent – during these times, will be the ones that can remain agile to changing market conditions, and emerge stronger.
How can companies bring in the right talent through their door, engage and motivate their workforce, so that they stay for the long haul and do their best work? What does it take to cultivate a workplace culture focused on learning and development to capture opportunities in growing areas of the economy?
Join Frank Koo, LinkedIn's Head of Asia, Talent and Learning Solutions, HRD Corp's CEO Datuk Shahul Dawood, Deloitte Malaysia's CEO Yee Wing Peng and edotco Groups's Chief People Officer, Ramon Chelva as they discuss and share insights on talent trends, and how leaders in the region and Malaysia can build a thriving workforce to meet their business goals. Entry to this panel discussion is free. 
Session Theme: The Talent Magnet: How to Build a Thriving Workforce and Attract the Right Talent
Date: 21 February 2023 (Tuesday)
Time: 1:00 pm – 4:30 pm
Venue: The Majestic Hotel, Kuala Lumpur
Format: Hybrid
Physical event at the Majestic Hotel
Live streaming to The Star Media digital channels
Panelists:
Frank Koo, Head of Asia, Talent and Learning Solutions, LinkedIn
Datuk Shahul Dawood, Chief Executive Officer, HRD Corp
Yee Wing Peng, Chief Executive Officer, Deloitte Malaysia
Ramon Chelva, Chief People Officer, edotco Group
Who should attend:
Professionals in Human Resources, Talent Management, Learning and Development as well as other C-Level executives
Priorities will be given to those with vested interest and positions related to become the Talent Magnet
Save Your Seat Today!
Disclaimer
This event is a hybrid event, and will take place at at Majestic Hotel, KL as well as The Star & Star Biz LinkedIn and FB page.
To attend either on-ground or online, register at bit.ly/starlinkedin21feb-rsvp
Priorities will be given to those who are working in the HR department or any positions that are related to this event.
Lunch will be provided
Once you have registered on bit.ly/starlinkedin21feb-rsvp, a confirmation email / calendar invite will be sent to your inbox.
Please check your junk/spam folder if you did not receive the email, or contact us at events@thestar.com.my
For more information or assistance, kindly contact us at events@thestar.com.my