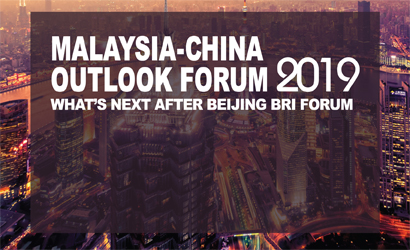 The Star will be organising the Malaysia-China Outlook Forum 2019 which targets business leaders, entrepreneurs, potential investors, and also financial and economic professionals. Our main objective of this forum is to update and discuss on the latest economic issues between Malaysia and China recent large scale projects such as Belt and Road Initiative, ECRL, Multi-product pipeline and more upscale projects.
This forum will also highlight the impact towards varied industries and our speakers will also share their insights on how these industries are to benefit from China's ongoing massive scale projects once it is fully implemented and where investment opportunities are abound for businesses.
The forum details are as follows :
Date     : 8 July 2019 (Monday)
Venue  : Sheraton Hotel, Petaling Jaya
Time     : 9:00am – 5:00pm
Forum Fee* : RM850 Per Pax / RM750 Per Pax (Early Bird Discount)
*inclusive 6% SST
Register now as seats are limited. This workshop is also HRDF claimable.
To register kindly complete the Registration Form
For more information please call 03-7967 1388 ext 1529 / 1657 or drop us an email at events@thestar.com.my