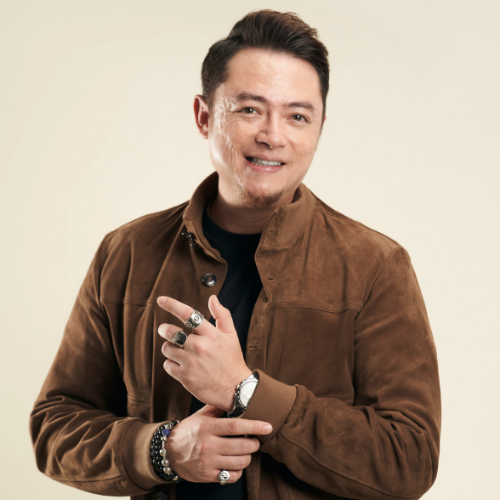 Sherson Lian
Celebrity Chef & Entrepreneur
Sherson Lian is truly a man with many talents – not only is he a chef, he is also a presenter, host and entrepreneur. If that's not enough, the all-rounder has another hidden talent… he can also sing!
The celebrity chef, who is proficient not only in English but also Bahasa Malaysia, started off with (and is still currently) hosting '5 Rencah 5 Rasa' on TV3, a role he's held strongly for the past decade, as they enter their 24th season this year.

Sherson has hosted multiple TV shows on Asian Food Channel and Asian Food Network, including 'Great Dinners of The World' which saw him and three other chefs serve up fine dining cuisine to their VIP guests, as they travelled through France and Scotland. He was also on four seasons of 'Family Kitchen with Sherson' together with his mom, Ann, to share their favourite family dishes.

The Asian food maestro was the feature chef for 22 sessions of the 'Watch The
Race From The Sky' by Dinner In The Sky, Kuala Lumpur during Moto GP 2018. He
also worked with leading English women's lifestyle magazine, Her World, to release
a cookbook together.

His cool, laid-back personality, coupled with his sense of professionalism, also
made it easy for global brands like Mercato, Nestle, Maggi, Dutch Lady, Quaker and
Belling Appliances to collaborate with him.

Sheer passion for the culinary arts and his cooking expertise drove the
entrepreneur to set up multiple businesses and restaurants, including HELLO by
Kitchen Mafia and Makhan by Kitchen Mafia.

Sherson, who is currently signed to SVL TAN Management, finds joy in educating
others about cooking, and is currently creating content for his new YouTube
channel.