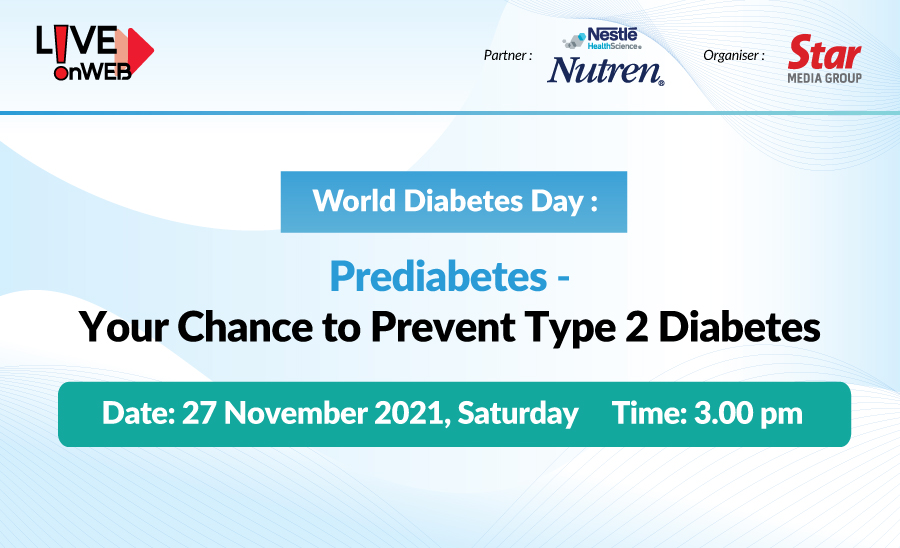 Are you aware that prediabetes is a serious health condition? And that it nearly always has no symptoms.
In conjunction with World Diabetes Day, Nestlé Health Science will be hosting a webinar Prediabetes- Your Chance to Prevent Type 2 Diabetes with Star Media Group on Saturday 27 November 2021 from 3.00 – 4.00pm.
The rising number of prediabetes cases in Malaysia has raised alarm bells. The good news is that prediabetes is really a warning sign, and an opportunity to take control of your own health. As a lifestyle disease, it can be reversed, and entirely prevented through healthy eating, portion control, exercise, and weight loss.
Join our experts for a power packed hour of fun and education as Nestlé Health Science together with its complete and balanced nutritional beverage for people with diabetes, NUTREN UNTUK DIABETIK.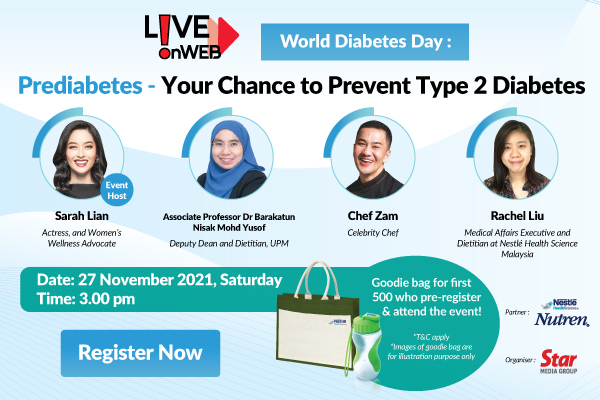 Speakers:
1. Associate Professor Dr Barakatun Nisak Mohd Yusof, Deputy Dean and Dietitian at UPM
2. Chef Zam, Celebrity Chef
3. Rachel Liu, Medical Affairs Executive and Dietitian at Nestlé Health Science Malaysia
Moderator:
1. Sarah Lian, Actress, and Women's Wellness Advocate
Note:
Upon registration, you will receive an email confirmation which includes the webinar link, login ID and password.