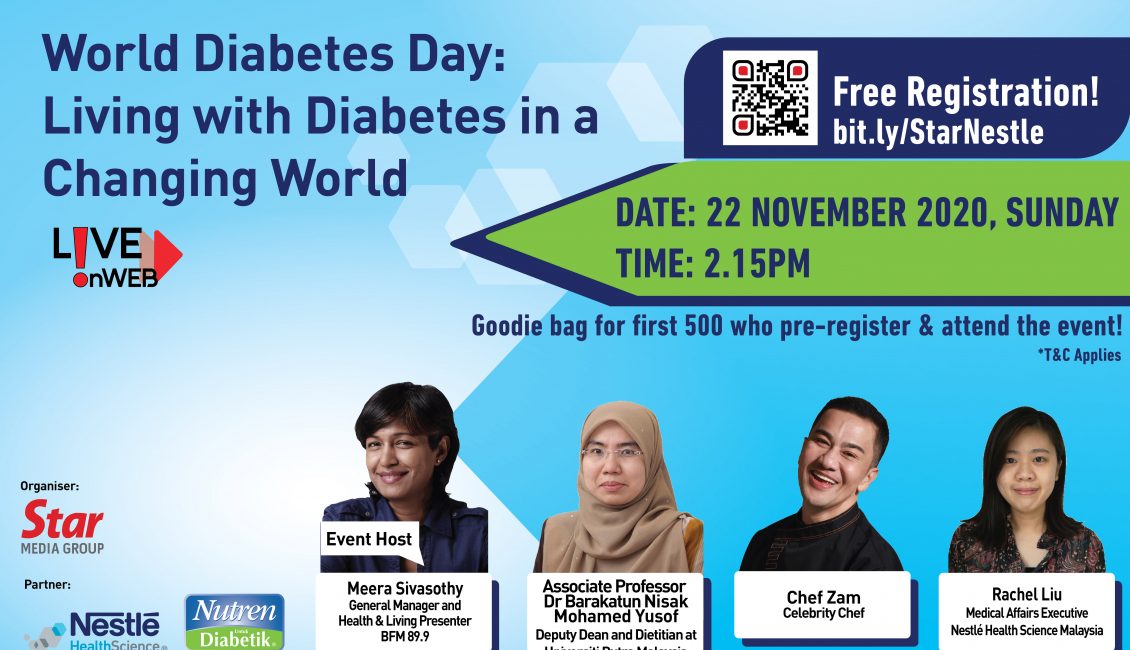 Are you struggling to manage your diabetes during the COVID-19 pandemic? Do you need support managing your blood sugar levels?

In conjunction with World Diabetes Day, Nestlé Health Science will be hosting a webinar Living with Diabetes in a Changing World with Star Media Group on Sunday 22 November 2020 from 2.15 – 3.30pm.

COVID-19 has brought key public health issues to the forefront due to its impact on people who are more vulnerable and at higher risk, including people living with diabetes who are at a greater risk of complications from the virus.

We all know that managing diabetes, especially during stressful times can be challenging. For many, the routine daily care for people living with diabetes has been disrupted due to travel restrictions and quarantine. Stress levels, coupled with poor eating habits, and the lack of physical activity has all added up to loved ones struggling to comply with their diabetes self-management routine.

For people living with diabetes, maintaining a balanced blood sugar level through careful nutritional intake is an essential component of diabetes management. It's not just the type of food you eat, but also how much you eat.

Join us for a power packed hour of fun and education as Nestlé Health Science, together with its complete and balanced nutritional beverage for people with diabetes, NUTREN UNTUK DIABETIK®, brings you:

An educational talk by Assoc Professor Dr Nisak, Deputy Dean and Dietitian at Universiti Putra Malaysia
A cooking demonstration by culinary extraordinaire Chef Zam on healthy diabetes friendly meal.
Panel Q&A with Assoc Professor Dr Nisak, Rachel Liu, Medical Affairs Executive and Dietitian at Nestlé Health Science and Chef Zam
Be one of the first 500 participants to register and attend the LIVE webinar to receive a FREE goodie bag containing free samples, a branded shaker and a Jute bag courtesy of NUTREN UNTUK DIABETIK® (terms and conditions apply).
CLICK HERE to Register for the talk: bit.ly/StarNestle