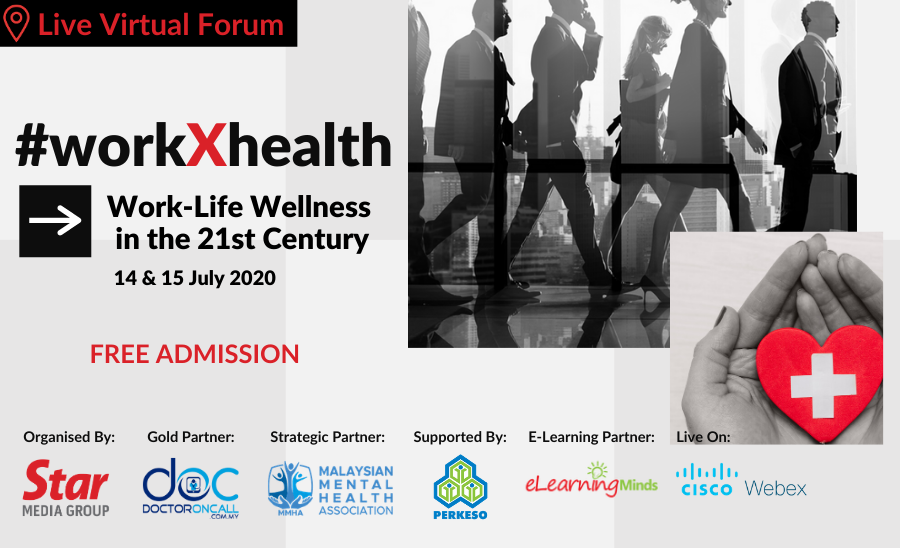 "Kuala Lumpur lowest among 40 cities in terms of work-life balance."

2019 Work-Life Balance Index by Kisi
Themed Work-Life Wellness in the 21st Century, #workXhealth organised by Star Media Group is a live virtual forum dedicated to address modern-day health issues in regards to burnout tendency among the workforce of the 21st century that is higher than ever, especially in this profound era of IR 4.0 with its unavoidable workplace pressure due to demands of the contemporary work environment and life expectations.
Throughout this live virtual forum, we want to initiate conversations on the pursuit of work-life optimisation by covering well-being topics in three areas;
PHYSICAL
LIFESTYLE & SOCIAL
MENTAL & EMOTIONAL

Click HERE for event agenda or, go to bit.ly/wxhagenda.


As working adults, we undeniably spend all our waking hours being heavily concentrated in what we do, to the point we are often unaware or misinformed regarding the latest, rising health concerns. With #workXhealth, we want to shed light on the implications of new-age health issues while learning to embrace & adopt the best work-life practices & health innovations.


KEY SESSIONS
[JULY 14] Day One, Main Session @ 10:15am – 12:15pm: Work-Life Wellness in the 21st Century and The Pursuit of Work-Life Optimisation
[JULY 15] Day Two, Session 1 @ 10:15am – 12:20pm: Physical Wellness and Lifestyle & Social Wellness
[JULY 15] Day Two, Session 2 @ 2:15pm – 4:30pm: Mental & Emotional Wellness and Online of Offline Doctors?
*All times shown here are according to Malaysia (GMT+8) time zone.


WORK-LIFE WELLNESS & HEALTH GURUS
Hazwan Najib, Co-Founder | DoctorOnCall
Dr. Rayney Azmi Ali, Chief Executive Officer | KMI Healthcare
Kevin Zahri, Director | KZ Events
Dato' Dr. Andrew, President | Malaysian Mental Health Association
Marta Kondryn, Head of People & Culture | Mindvalley
Dr. George, Consultant Urologist & Clinical Associate Professor | Monash University Malaysia
Dr. Azlan bin Darus, Head of Prevention, Medical & Rehabilitation Division | Pertubuhan Keselamatan Sosial (PERKESO)
Norlida Azmi, Chief People & Culture Officer | Permodalan Nasional Berhad (PNB)
Chinmay Sharma, Director of People & Culture | Philip Morris Malaysia
Datuk Dr. Kuljit Singh, Consultant ENT & Medical Director | Prince Court Medical Centre
Dr. Lau Sian Lun, Associate Dean, School of Science and Technology & Head, Department of Computing and Information Systems | Sunway University
Lim Chee Gay, Executive Vice President, Human Resources | TDCX
Billy Waters, General Manager | The Babel Group
Khor Xin Yun, Chief Executive Officer | Walnut Wellness
Derek Toh, Founder & Chief Executive Officer | WOBB

For more info, visit bit.ly/workxhealth



Good news!
#workXhealth Live Virtual Forum can now be accessed at complimentary basis. We also welcome contribution of any amount in support of sustainable ethical journalism and for Star Media Group to continue in curating event programmes that are beneficial for your personal development and for the progressive growth of the industry and society at large.


GOLD PARTNER
DoctorOnCall

STRATEGIC PARTNER
Malaysian Mental Health Association (MMHA)

SUPPORTED BY
Pertubuhan Keselamatan Sosial (PERKESO)

E-LEARNING PARTNER
eLearningMinds

LIVE ON
Cisco Webex

OTHER INFORMATION
All payment has to be paid immediately via Eventbrite upon registration.
No cancellation of order and refund is allowed.
Upon registration, we will be sending you an email with the joining link within 48 working hours, if you do not receive it, kindly email events@thestar.com.my
For sponsorship, corporate packages or any other queries, kindly email to events@thestar.com.my or call 03-7967 1388 ext 1477 / 1240.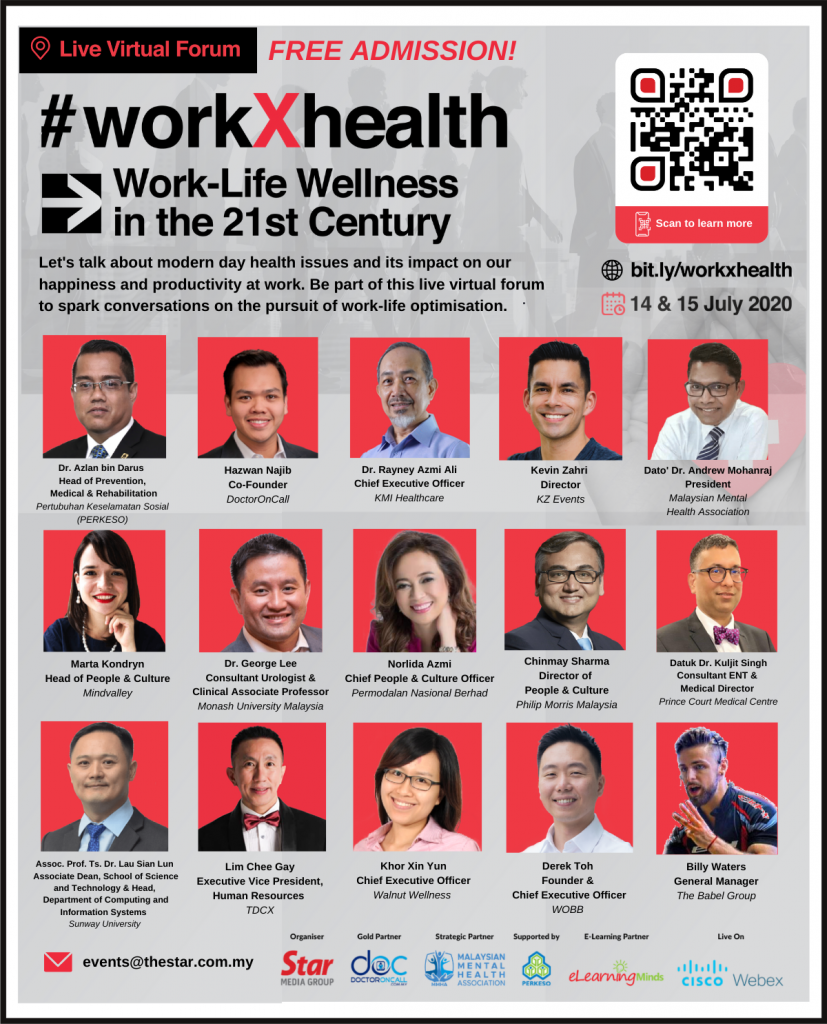 For other events by Star Media Group, visit events.thestar.com.my