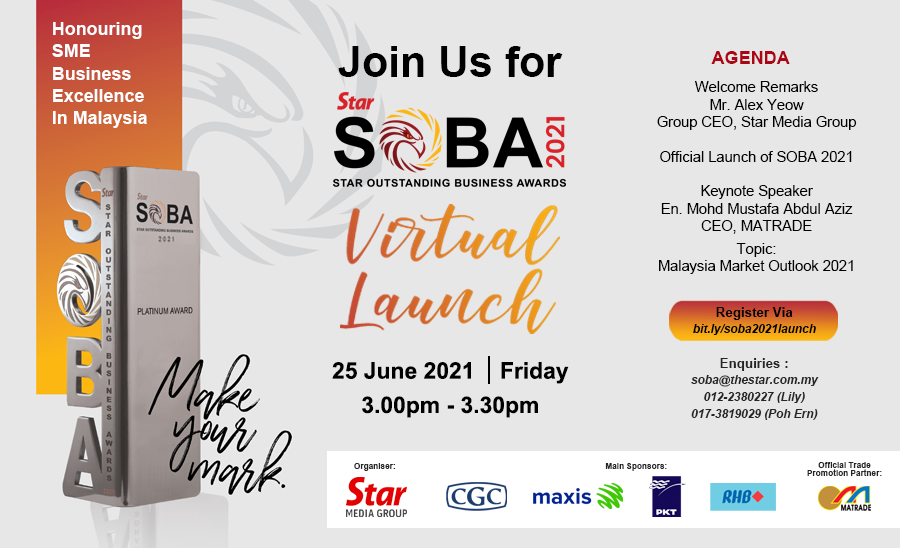 The Star Outstanding Business Awards (SOBA) 2021 Official Virtual Launch
About this event
The Star has long been at the forefront in championing the growth and development of the country's businesses. We believe our local non-listed companies and SMEs are the backbone of our nation.
SOBA marks its 12th year in 'Honouring the Best in Malaysian Business' and the Awards recognise, honour and reward exemplary businesses and their leaders who have contributed greatly to the nation's growth.
Objectives of SOBA:
To recognise the role and contributions of outstanding businesses towards the nation and the economy;
To encourage local enterprises to continue developing and elevating their businesses;
To motivate and inspire home-grown businesses to aim for excellence in their products and services;
To celebrate and highlight the achievements of local enterprises that have contributed to the growth of the community; and
To inspire and encourage local businesses to promote Malaysia and showcase its products and services to the world.
REGISTER HERE
Date: 25 June 2021
Time: 3.00pm – 3.30pm

Agenda:
3:00pm – Welcome remarks by Mr. Alex Yeow, Group CEO of Star Media Group
3:10pm – Announcement of Official Launch of SOBA 2021
3.15pm – Keynote Speaker : En. Mohd Mustafa Abdul Aziz , CEO of MATRADE
Topic: Malaysia Market Outlook 2021
3:30pm – SOBA Helpdesk
TECHNICAL INFORMATION
This virtual launch will run on Facebook. Once you have successfully registered, you will receive a confirmation email from Eventbrite.
The link will be sent to you 2 working days before the event date. You may join the virtual launch 15 minutes before the live. Please check your junk/spam folder if you did not receive the email, or contact us at soba@thestar.com.my.
REGISTER HERE