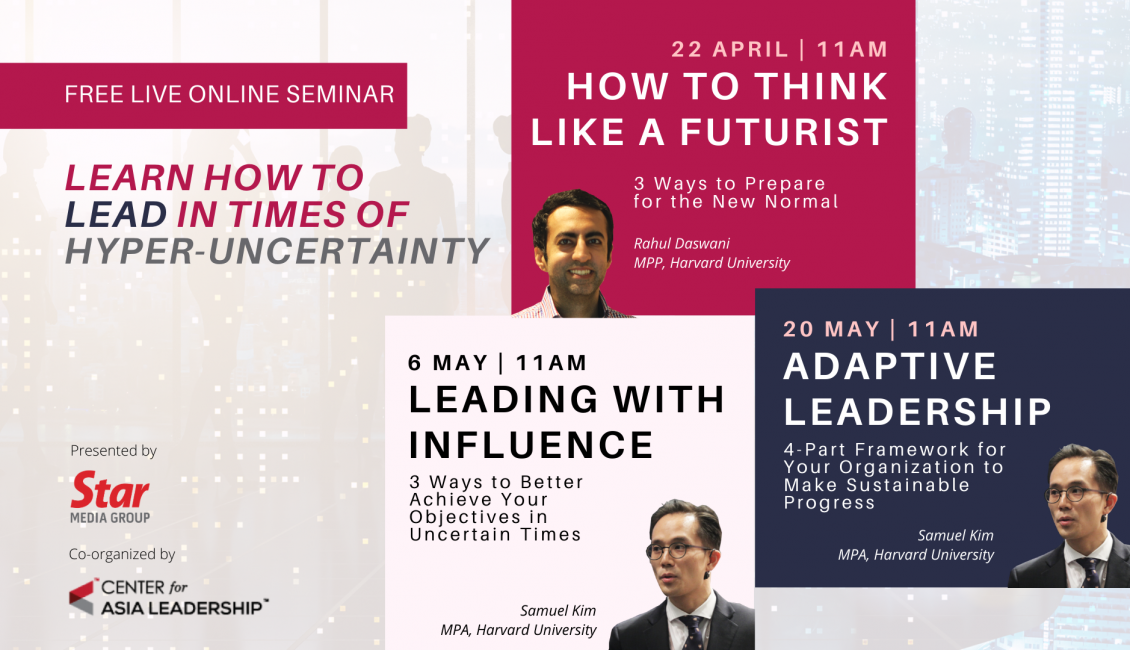 The Future of Leadership Live Online Seminar Series organized by the Center for Asia Leadership is designed to help business decision-makers and young professionals to lead in times of hyper-uncertainty.
Hear from Harvard teaching fellows at the Future of Leadership Live Online Seminar to learn actionable insights to lead during these challenging times.
[Apr 22, 11am] Future-Proof Leadership: 3 Ways to Prepare for the New Normal
[May 6, 11am] Leading With Influence: 3 Ways to Better Achieve Your Objectives in Uncertain Times
[May 20, 11am] Adaptive Leadership: A 4-Part Framework for Your Organization to Make Sustainable Progress
CORRELATED WORKSHOPS
Star Media Group and the Center for Asia Leadership runs a number of leadership workshops throughout the year. The Adaptive Leadership Signature Program modeled after Harvard's year long Adaptive Leadership course has been conducted over 100 times impacting the lives of more than 2,500 senior-level working professionals, thought leaders, decision makers, government officials and entrepreneurs all around the world.
Some of the other workshops that will be running in 2020 at Menara Star, Petaling Jaya are the following:
How To Think Like A Futurist (Jul 7 & 8)
Power, Influence, and Persuasion (Sep7 & 8)
Adaptive Leadership: Leading an Agile Workforce for the 21st Century (Nov 25 & 26)
SPECIAL RATE FOR 2-DAY WORKSHOP REGISTRATION
By registering for the live online seminar, you are entitled to a discount of RM400 if you decide to enroll in any of the physical workshops. A discount of RM600 will be given for registration of 2 workshops or more. The discount is only valid within one month after the webinar.
The 2-day workshop investment fees are RM2,888 (before discount) and includes trainer fees, program materials, food & beverage, certification and SST charges. Only a maximum of 40 pax is accepted in a workshop to enable inclusive learning as well as to practice a safe social distancing.
For more information, email events@thestar.com.my