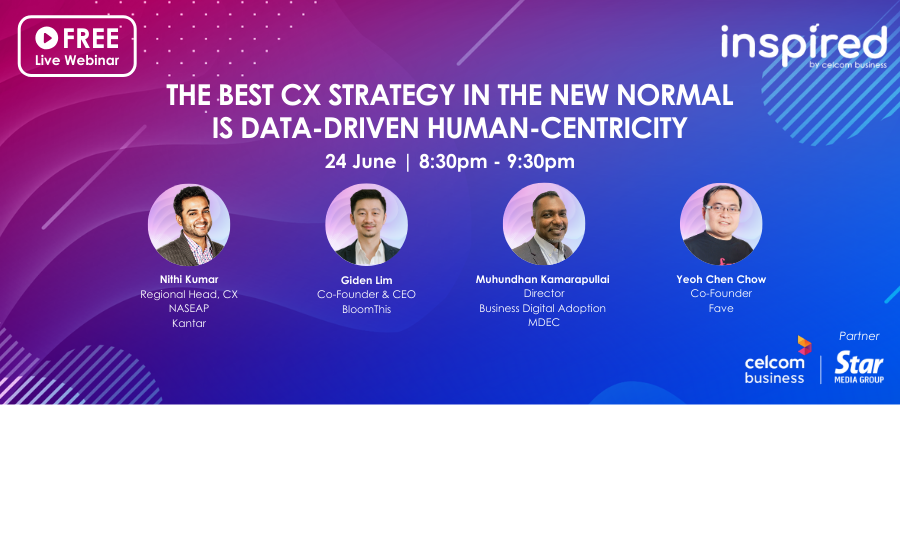 REGISTER FOR THE FREE LIVE WEBINAR HERE
In today's hyper-competitive economy, customer experience (CX) is the key differentiator. Many brands and SMEs recognize the importance of embedding CX and customer-centricity in their business strategy. In this new normal, data-driven CX is critical to the growth and development of SME businesses, but a simple fact remains that embracing analytics to improve CX comes with challenges.
Hear and learn from our panellists sharing on how they navigate around the complexities of big data and grasp the full potential of analytics on how best to take advantage of its opportunities and make its CX impact felt across the entire business and their customers.


DISCUSSION TOPICS
Sharing of Real-Life Digitisation, Customer Engagement & Digital Analytics Journey
Opportunities, ROIs, Customer Experience Digital and Social Marketing
Challenges in Digitalisation: Tech vs. Biz Needs
Key Support from Government
Valuable Takeaways to Begin Your Digital, Analytics & Data-Driven Customer Experience Journey


SPEAKERS
Nithi Kumar, Regional Head of CX, NASEAP, Kantar [Panel Moderator]
Nithi is customer-oriented with focus on "WOW" customer experience in the entire customer value chain. He brings more than 15 years of international experience within the areas of Customer Experience, Marketing, Market Research and Strategy. He is passionate about embedding optimal experiences throughout the customer journey using Design Thinking and ultimately delivering value to businesses. He has experience working across a wide range of markets, such as Norway, Serbia, Malaysia, Thailand, Bangladesh and Pakistan. He holds an MBA from London Business School and is an INSEAD-trained strategic transformation professional.
Giden Lim, Co-Founder & CEO, BloomThis
Giden is the co-founder and CEO of BloomThis, an E-commerce that delivers artisan handcrafted designer flowers and gifts on-demand. Bringing his experience from the brick and mortar floristry business, Giden is innovating the way for people to create moments of happiness through flowers and gifts. In 2015, he and his wife Penny co-founded BloomThis with the emphasis on improving the entire flower delivery experience. Today, BloomThis has expanded its services to include gifting beyond flowers such as artisanal gifts, life plants and gourmet cakes & desserts. Through digital transformation and innovation, BloomThis is growing rapidly and leading the way in disrupting the fragmented flower & gifting industry.
Yeoh Chen Chow, Co-Founder, Fave
Yeoh Chen Chow is the co-founder of Fave, next-generation merchant digital platform in South East Asia. Fave helps to digitize tens of thousands of local businesses, from restaurants, cafes, retailers, spas, beauty and wellness studios, service providers, tourist attractions to hotels. Fave acquired 3 of the Groupon subsidiaries in South East Asia — Malaysia, Singapore and Indonesia. He is also the co-founder of KFit, regional fitness sharing platform in South East Asia.

Prior to that, he was the Regional Operations Director for Groupon Asia Pacific, Product Manager for JobStreet.com and Management Consultant for Accenture. He is an Eisenhower Fellow and an alumnus of Cornell University. He is also an angel investor, who has invested in numerous early-stage startups in the region.
Muhundhan Kamarapullai, Director, Business Digital Adoption, MDEC
Muhundhan Kamarapullai or Muhu comes with over 20 years of experience that spans the domains of entrepreneurship, education, healthcare, technology management and organisational capability development. Professionally, he is a trained Project Management Professional (PMP), Information Security Lead Auditor (ISO27001) and Certified Professional Marketer (CPM Asia Pacific).

At Malaysia Digital Economy Corporation (MDEC), he leads the digital adoption ecosystem team, which spearheads the growth of the domestic landscape, eventually helping more Malaysian businesses embrace digital adoption and innovation. Prior to this, he led the Startup & Entrepreneurship team and introduced several new global initiatives to Malaysia in the areas of big data, internet of things and digital games. He also headed efforts in building capabilities of local technology companies – the MSC Malaysia companies via customised programs to support their growth into regional markets.


WEBINAR DISCLAIMER & TECHNICAL INFORMATION
Prior to signing up for the webinar, kindly ensure you have read, understood and agree to the T&C here.
The webinar will run on Zoom application.
Once you have registered via Zoom application, an invitation will be emailed to your inbox in which you may add it in your calendar as a reminder.
A reminder email will also be sent to you shortly before the live online seminar begins.
Please check your junk/spam folder if you did not receive the email, or contact us at events@thestar.com.my


REGISTER FOR THE FREE LIVE WEBINAR HERE