Budget management isn't the most thrilling task on anyone's to-do list, but it's essential for any business. Get insights on strategies and best practices on budget planning with our expert panelists on 5 Nov 2021 at 3pm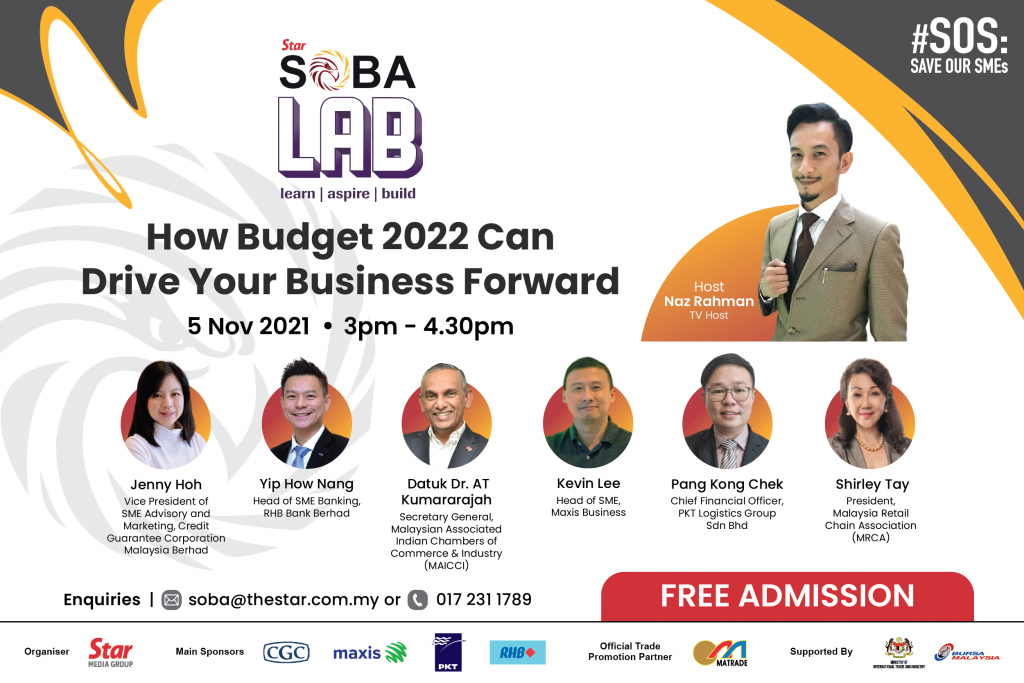 Session 1 : #SOS: How Budget 2022 Can Drive Your Business Forward
The session will address:
– SME portfolio financial restructuring
– How the Government's 2022 budget can help you rebuild or drive your business forward
– Government's focus in strengthening public healthcare, rebuilding socio-economic and economic resilience
Speakers:
1) Datuk Dr. AT Kumararajah , Secretary General, MAICCI
2) Jenny Hoh, Vice President of SME Advisory and Marketing, CGC
3) Yip How Nang, Head of SME Banking, RHB Bank Berhad
Session 2 : #SOS: How Budget 2022 Can Drive Your Business Forward

This session will address:
– Strategies for effective budget planning 2022
– Reopening of all sectors – What's next? Is this the right time to invest or expand your businesses?
– Government's focus on enhancing digital infrastructure. How can SMEs benefit?
Speakers:
1) Shirley Tay, President, MRCA
2) Pang Kong Chek, Chief FInancial Officer, PKT Logistics Group Sdn Bhd
3) Kevin Lee, Head of SME, Maxis Business
For SOBA enquiries, email soba@thestar.com.my or call 017-231 1789.
SOBA Website : www.soba.com.my