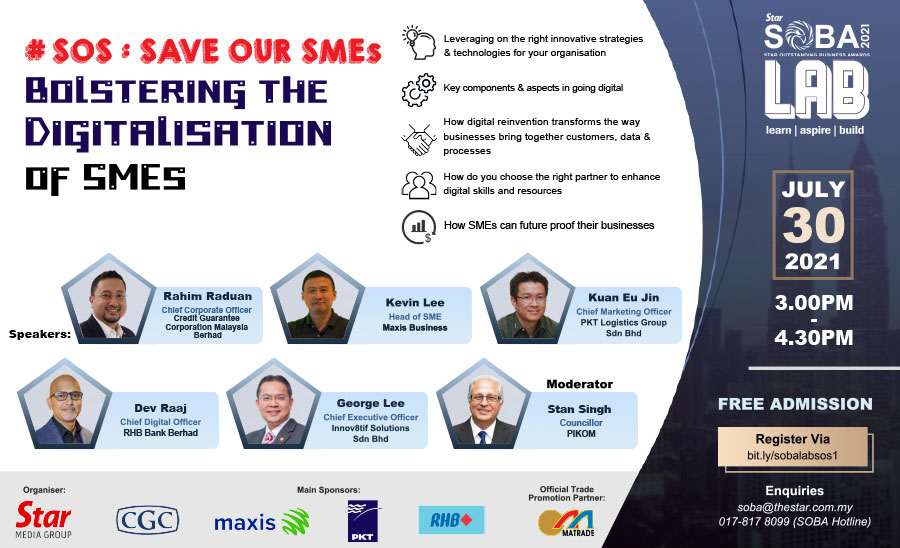 The COVID-19 crisis has brought change in the way companies carry out their businesses. Has your company undergone digitalisation or are you facing challenges in your digital transformation process? ?
Our first SOBA LAB webinar is happening on 30 July 2021 and will be focusing on topics that are beneficial to SMEs.
Let our expert speakers help you learn how to bolster your business digitalisation.

TOPIC: #SOS: Bolstering the Digitalisation of SMEs
The session covers:
Leveraging on the right innovative strategies & technologies for your organisation
Key components & aspects in going digital
How digital reinvention transforms the way businesses bring together customers, data & processes
How do you choose the right partner to enhance digital skills and resources
How SMEs can future proof their businesses
SOBA LAB is the acronym for Learn, Aspire & Build. The Star has long been at the forefront in championing the growth and development of the country's businesses. We believe our local non-listed companies and SMEs are the backbone of our nation.

For SOBA enquiries, email soba@thestar.com.my or call SOBA Hotline at 017-817 8099