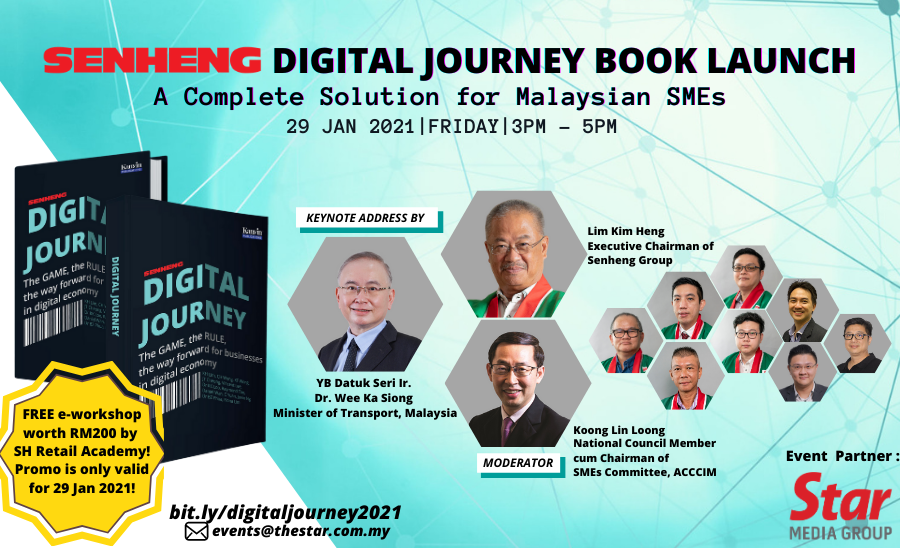 FREE ONLINE SESSION: www.facebook.com/starbizmy
The pandemic has forced businesses to rethink and redesign their business models to adopt digitalisation and this has proven to be a key advantage especially for SMEs to remain competitive in the digital economy.Mr. Lim Kim Heng, Senheng's Executive Chairman has published a book entitled Digital Journey: The GAME, the RULE, and the way forward for businesses in the digital economy. SMEs will gain deep insights on how to automate their e-commerce business with the right tools that cover a wide scope including CRM, analytics, automatic ordering, and payments, plus convenient multi-platform product management and more. In short, it's all about Business Automation Solutions that help SMEs to manage their business more effectively.
Discussion topics
1. Encourage SMEs to embark on digital transformation
2. How Senheng has become a successful case study in digital transformation for SMEs
3. Providing a range of both full and partial digital transformation solutions
Be part of the book launch of Senheng Digital Journey on 29 January 2021 to unlock answers in solving the challenges to your digitalisation journey with keynote address by YB Datuk Seri Ir. Dr. Wee Ka Siong.
Get a FREE e-workshop worth RM200 by SH Retail Academy when you purchase a copy of a Digital Journey book. This promo is only valid for 29 January 2021.
Speakers:
Lim Kim Heng, Executive Chairman of Senheng Group
Wong Che Hoe, Senior Vice President of Senheng Group
Daniel Wan, Head of Customer Experience Division, Senheng Malaysia
Dr. K. K. Loo, Head of Corporate Compliance & Management Division , Senheng Malaysia
Dr. Phua Bing Zhao, Head of Web Technology, Senheng Malaysia
Raymond Tan, Head of New Retail Technology, Senheng Malaysia
Cheong Jun Tong, Chief Operating Officer, Senwave Retails Solutions Sdn Bhd
Vincent Lee, Chief Technology Officer, Senwave Retails Solutions
Wong Kin Fei, Chief Operating Officer, Blackbox BI Consultancy
Moderator
Koong Lin Loong, National Council Member cum Chairman of SMEs Committee of The Associated Chinese Chambers of Commerce and Industry of Malaysia (ACCCIM)
Sign up now at bit.ly/digitaljourney2021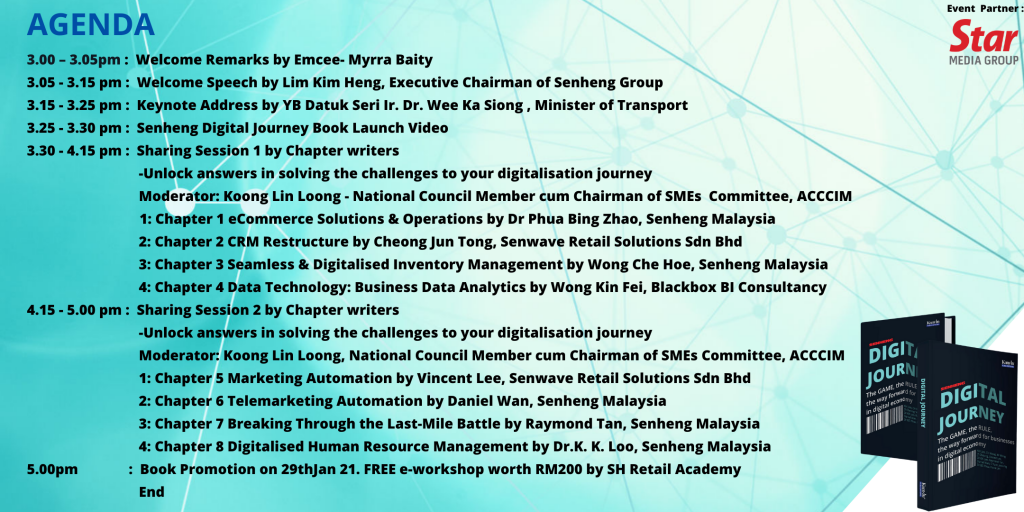 #StarMediaGroup