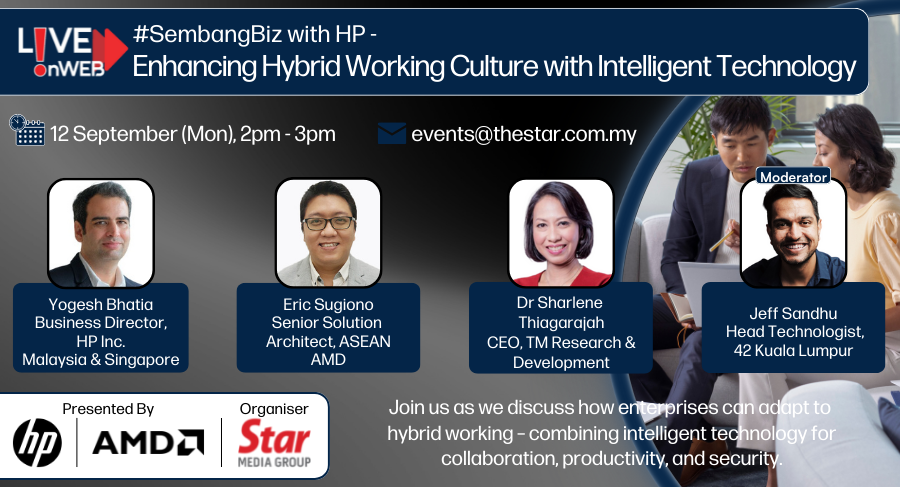 The global working culture is becoming a digitally connected one. Businesses and employees require a combination of innovation in culture and reliable technology to empower employees to work from anywhere, in any way they want. A survey by the Malaysian Employers Federation (MEF) indicated that 61.7% of companies stressed on the need to continue with hybrid work experience, but improvements still need to be made.
After more than 2 years of hybrid work, 1 in 6 employees still feel that enterprises are not ready for a hybrid world. This begs the questions – how can enterprises maximize their hybrid capabilities with the help of today's technology, and how can these enterprises help their employees maintain a work-life balance, while still enabling them to perform at their best?
Star Media Group is honoured to have HP and AMD take part in our webinar, as we discuss how enterprises in Malaysia can adapt to embrace a new way of to allow us to 'work happy'. Focus Areas:
• Empower enterprises to enhance their hybrid workforce in a growth-first environment – adopting best workflows to the business' needs and understanding performance and tools needed.
• Share on how enterprises can build resilient workers through seamless collaboration and sustainable intelligent technology that is also powerful to create, work, and collaborate while enabling employees to be present in their lives yet productive at work.
• Security for enterprises should be paramount; this combined with hybrid culture, workers should always be safeguarded and further explaining on how enterprises can improve on safeguarding their data anywhere.
Speakers:
• Yogesh Bahtia, Business Director, HP Inc., Malaysia & Singapore
• Eric Sugiono, Sr. Solution Architect, ASEAN, AMD
• Dr. Sharlene Thiagarajah, CEO, Telekom Research & Development Malaysia
Moderator:
• Jeff Sandhu, Head Technologist, 42 Kuala Lumpur