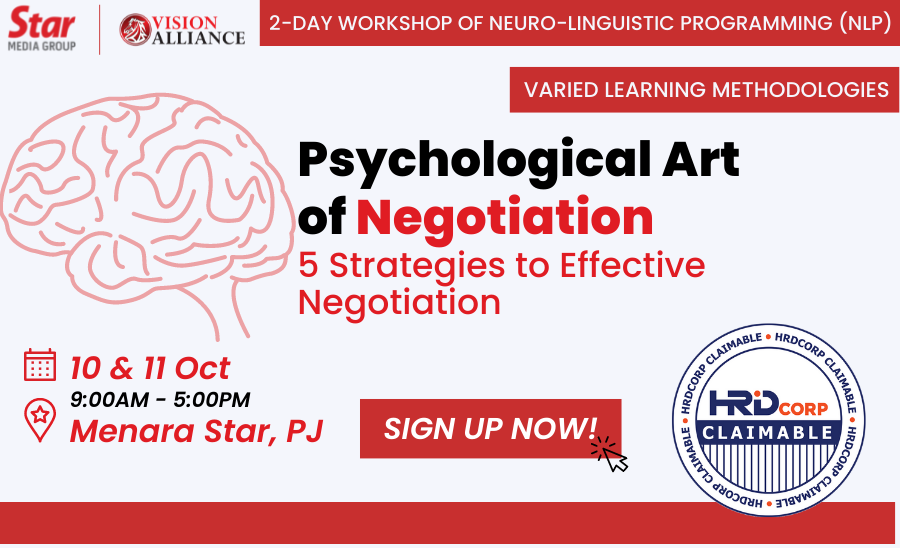 The Only Experiential NLP With Complete Support System
OBJECTIVES
In this two-day workshop, participants will learn about the the principles and model for negotiation which includes a practical framework for effective negotiation. This helps to establish understanding on steps and approach towards effective negotiation strategically develop our position and base. This workshop will discuss about the art of building rapport and relationship using 5 main strategies . Participants will acquiring the right tools and techniques on developing the sense of connection with others. In order to persuade confidently and with clarity, the participants will be guide with strategic choice if words. It will discover beyond words to develop clarity in negotiation to handle objections and gain agreement. Frameworks introduced in this workshop execute learning points into application with customised case studies.
METHODOLOGY
Varied Learning Methodologies
Simulations and Role-Play
Dynamic Presentation
Engaging Multimedia and Video
Interactive Q&A Session
Objective-oriented Games and Activities
Group and Individual Discussion & Presentation
Energizers
Breakout Session
Cards and Props
KEY OUTCOMES
Psychological Art of Negotiation with NLP is designed to inspire, illustrate and ignite important key strategies and tools to enhance negotiation, sales and influence. This programme highlights proven effective methods of human motivation, linguistics and negotiation based on the model of Neuro-Linguistic Programming. By the end of this workshop, the participants will be able to:
• Achieve optimal results in negotiation by acquiring proper framework and preparation
• Establish win-win situation in closing the deal and obtain the best benefit for the organization
• Equip with practical psychological techniques in negotiation, active listening for discovery, strategic questioning for objection handling and negotiation tactics
This workshop is designed with a blend of experiential activities, objective-oriented games, role-play simulations, customized case studies and actionable action plan
---
WHO SHOULD ATTEND
Working Professionals in Business, Government, International Organisations, and Non-Profit Organisations who hold mid- to senior-level decision making roles specialise in sales, management, marketing, customer service, real estate and more.
---
PROGRAMME & SPEAKER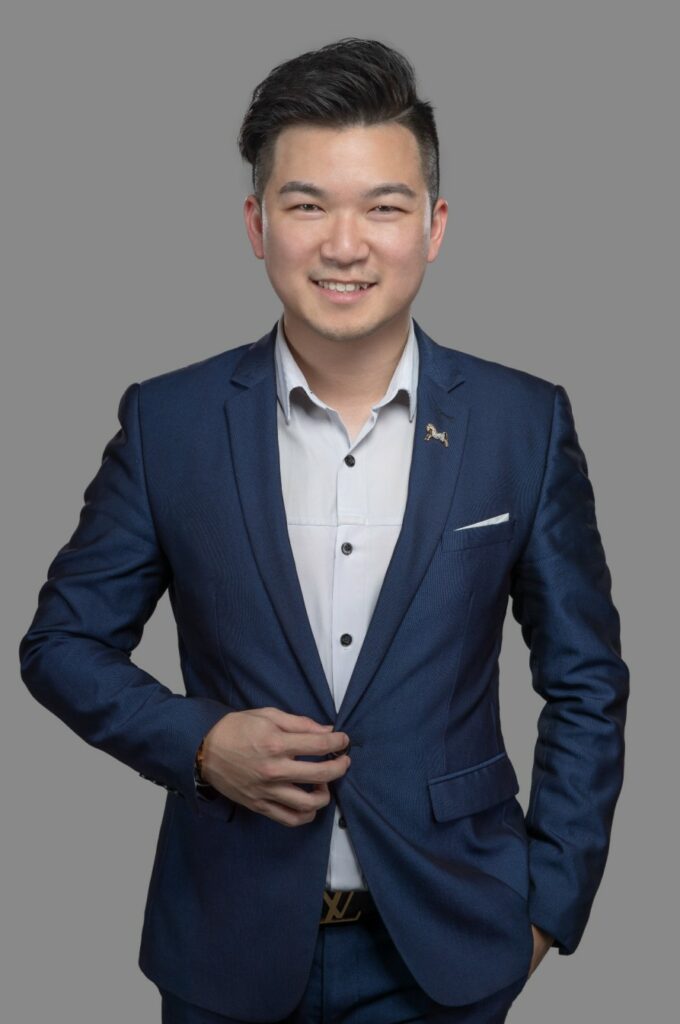 Experiences, Training and Coaching
• Certified NLP Trainer
• Certified NLP Master Coach
• 100 Most Inspirational LinkedIn Icons in Malaysia
• Author, 14-Day Breakthrough Action Plan for Sales Breakthrough
• Board of Trustee, Yayasan Perintis Malaysia
• 3x Tedx Speaker
• Chemical Engineer, Esso (Exxon Mobil) Refinery
• Former National Taekwondo Athlete
---
Click "Sign Up Now" above, or visit Eventbrite. Select the number of tickets and fill in the required details.
You may opt to pay immediately via a Paypal account, by credit or debit card OR by invoice.
If you choose to pay by invoice, we will be sending you an invoice within five (5) working days and all payment has to be made BEFORE the workshop.
All payment to be made to Star Media Group Berhad. If you are submitting a grant to HRD Corp, please notify us once you have registered.
Grant application via HRD Corp must be done BEFORE the event.
Registration based on a first come first serve basis. Due to the interactive nature of this program and the practice of social distancing, the available seats are limited.
OTHER INFORMATION
We will adhere to strict social distancing SOP and hygiene practices as advised by the Malaysian National Security Council (MKN) during the workshop.
Workshop ticket includes SST charges, COVID-19 antigen rapid test kit, teaching fee, program materials and meals for both days (excludes travel and accommodation expenses).
Breakfast, lunch and tea meals will be individually packed.
This programme is HRD Corp claimable under STAR MEDIA GROUP BERHAD.
For more information or assistance, kindly contact us at events@thestar.com.my .