New Age Toolkit for Brand Reputation Management


Leaders and brands are skating on thin ice day in, day out in this borderless digital world and economic uncertainty. Your reputation can be destroyed in just a flick of the finger hence, it has now become exceptionally crucial for brands and leaders to not just be well equipped but to also stay updated with the necessary knowledge and skills to thrive along the ever-evolving media landscape.
At this online seminar, you will learn from a convergence of industry leaders and practitioners and get valuable insights from the market-leading communication and digital gurus on tools to manage your reputation more effectively in this new age.


ANCHORED BY:
KEY SESSIONS
[29 JUNE] Day One, Session 1 @ 2:30pm – 3:30pm: Opening Keynote and Address by Google
[30 JUNE] Day Two, Session 1 @ 10:15am – 12:15pm: Mastering the New Art of Reputation Management and Journalism in a Post-Truth Era
[30 JUNE] Day Two, Session 2 @ 2:15pm – 4:15pm: Digital Hype: Brand Booster or Buster? and Politically Correct vs. Ethically Right
[1 JULY] Day Three, Exclusive Bonus! @ 10:15am – 11:45am: Elevating Your Media Awareness and How Loud Non-Verbal Communication Can Be?
*All times shown here are according to Malaysia (GMT+8) time zone.

MARKET-LEADING COMMUNICATION & DIGITAL GURUS:
Kamarul Bahrin, Editor-in-Chief | Astro Awani
Lau Chak Onn, Editor-in-Chief | CILISOS
Neeraj Gulati, Partner | Entropia Global
Marc Woo, Country Head | Google Malaysia
Zeffri Yusof, Head of Communications | Google Malaysia
Nik Tasha Nik Kamaruddin, Client Organisation Director | Ipsos Malaysia
Jovian Lee, Creative Group Head | Leo Burnett Malaysia
Andy See, Founder & Managing Director | Perspective Strategies
Ian Yee, Deputy Executive Editor & Producer | R.AGE
Freddy Loo, Senior General Manager, Group Analytics | Star Media Group
Jagdev Singh, Editor, StarBiz | Star Media Group
Mark Beau de Silva, Senior Lecturer, School of Liberal Arts and Sciences | Taylors University
Shamillia Sivathambu, Senior VP & Head, Strategic Communications and Brand, UOB Malaysia
Blake Hoo, Executive VP | Weber Shandwick
Steve Chao, Documentary Filmmaker, Journalist

For agenda, go to bit.ly/prcomm-agenda.
Get your tickets HERE.


Platinum Partner:
Google

E-Learning Partner:
e-Learning Minds

Who Should Attend?
C-level & Senior Management Executives | Business Owners | Company Spokespersons | HODs & Senior Managers | Communication & Public Relations Professionals in Business, Government, MNC & Non-Profit Organisations | Marketing & Branding | Digital Marketing | New/ Social Media | Media Relations | Crisis Communication | Corporate Affairs | Government Relations

OTHER INFORMATION
All payment has to be paid immediately via Eventbrite upon registration.
No cancellation of order and refund is allowed.
Upon registration, we will be sending you an email with the joining link within 3-5 working days, if you do not receive it, kindly email events@thestar.com.my
For sponsorship, corporate packages or any other queries, kindly email to events@thestar.com.my or call 03-7967 1388 ext 1477 / 1240.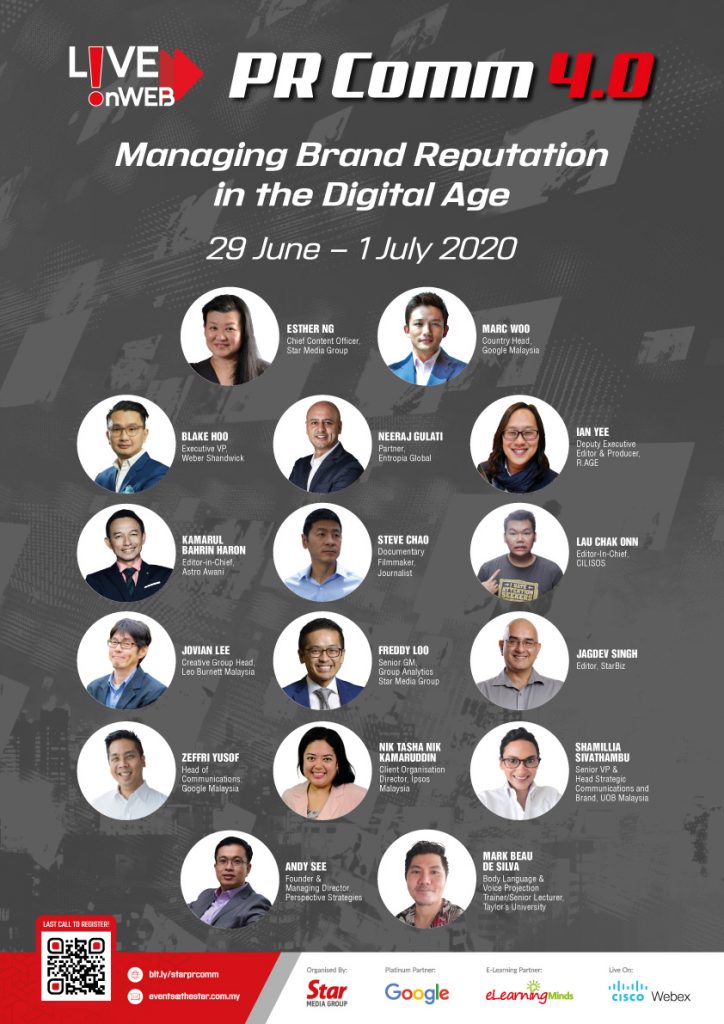 For other events by Star Media Group, visit events.thestar.com.my