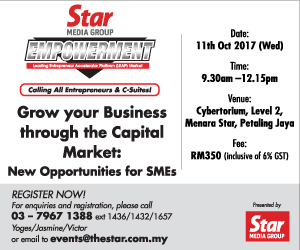 The Malaysian capital market offers various platforms for small and medium enterprises (SMEs) to raise funds to finance growth and move up the ladder. The recent launch by Bursa Malaysia of the much anticipated Leading Entrepreneur Accelerator Platform (LEAP) market is the latest addition to an array of fund raising avenues which could benefit your company's growth plans. Being the first of its kind in ASEAN, its objective to help accelerate the growth of SMEs is very much welcomed especially given that 97% of business establishments in the country are SMEs. Other funding avenues include peer-to-peer (P2P) financing and equity crowd funding.
Are you interested to find out more about LEAP and if your business is eligible to access funds through this market? Are you eager to benefit from Malaysia's capital markets potential? Do you want to take your business to the next level by getting listed?
Understand more about the LEAP market and other fund raising opportunities in the Malaysian capital market by participating in the workshop which is led by our facilitator who is a capital markets expert.
The session will be held on 11th October 2017 (Wednesday), 9.30am – 12.15pm at the Menara Star, Petaling Jaya
Do sign up early to secure a seat, as places are limited and will be on a first-come, first-served basis. For registration, please call 03 – 7967 1388 ext 1436/1432/1657 or email to events@thestar.com.my