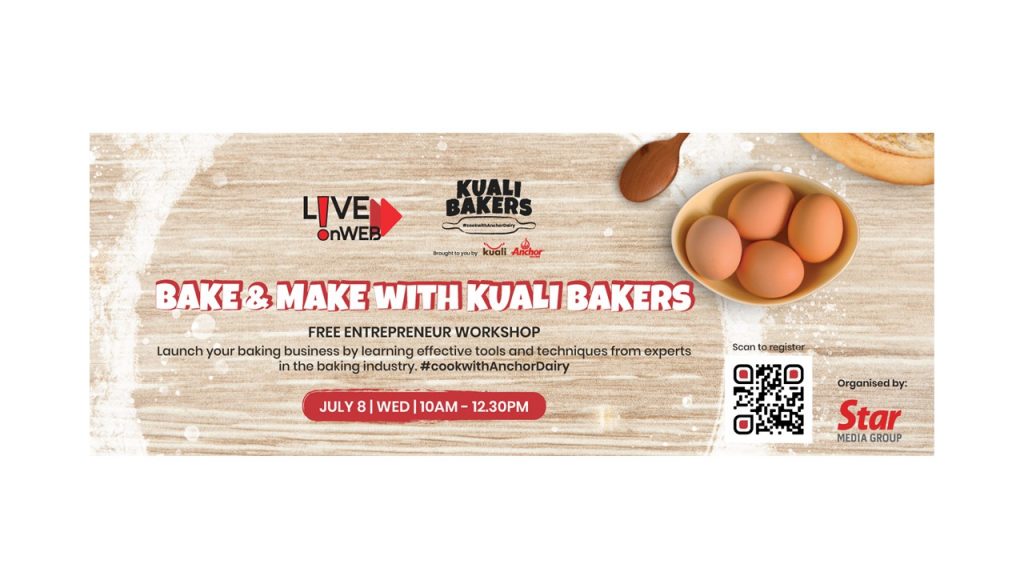 REGISTER HERE FOR FREE ENTREPRENEUR WORKSHOP
You may already own a growing business, have been taking baking 'orders' from friends and family or even just thinking of starting up your own business. Bake & Make with Kuali Bakers is here to help!

During this workshop, Kuali will convey its entrepreneurial advice, and social exercises to its crowds to help home baking specialists to showcase their developing business.
BAKE & MAKE WITH KUALI BAKERS – SESSIONS
Session 1
Topic: Six Macro Consumer Trends in Foodservice 2020
Speaker: Food Service Director of Fonterra Brands Malaysia, JackTan
Session 2
Topic: New Ideas for Product Innovation
Speaker: Managing Director of Big Onion Food Caterer Sdn Bhd, Liang Foo Kuan
Session 3 : Panel Discussion
Topic : Challenges Faced by the Baking Industry During Pandemic
1. Moderator: Director of Malaysian Institute Baking, Yong Mei Kei
2. Panelist 1: CEO & Co- Founder of Vanilla Mille Crepe, Nelson Liew
3. Panelist 2: Founder of Azalina's, Azalina Eusope
Session 4
Topic: E-Commerce Business Development
Speaker: Chief Executive Officer, Akademi Usahawan Mikro, Abd Azharee Abd Wahid
Register here : bit.ly/kuali-bakers
For any queries, contact us at 03-7967 1388 ext. 1475 (Shashee)/ 1871(Lily)
or email us at events@thestar.com.my