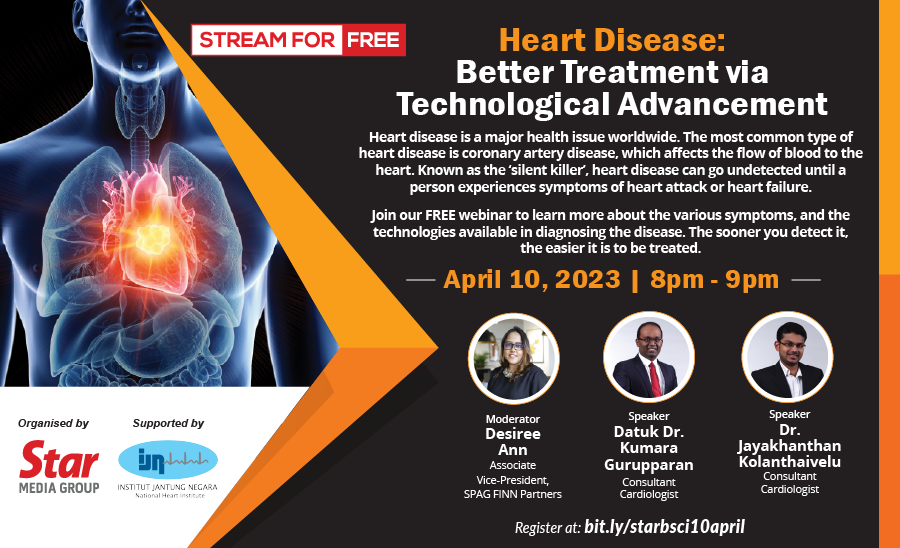 According to the data published by the World Health organization in 2020, coronary heart disease deaths in Malaysia reached 36,729 or 21.86 percent of total deaths. On average, about 140 persons for every 100,000 people will suffer from a heart attack during their lifetime. Based on the data released by the Department of Statistics Malaysia in 2021, ischemic heart diseases remained the principal cause of death, 17.0 percent of the 109,155 medically certified deaths in 2020. There were 18,515 deaths due to Ischaemic heart disease in 2021 – 12,707 (68.6%) for males, and 5,808 (31.4%) for females.
Based on the survey published by the Malaysian National Health and Morbidity Survey 2019 it showed that 30% of Malaysians above the age of 18 years suffer from hypertension which is one of the highest risk factors for developing heart disease. Heart disease is a major health issue worldwide. The most common type of heart disease is coronary artery disease, which affects the flow of blood to the heart. Known as the 'silent killer', heart disease can go undetected until a person experiences symptoms of heart attack or heart failure.
Join our esteemed speakers, Consultant Cardiologists from the National Heart Institute, Datuk Dr. Kumara Gurupparan and Dr. Jayakhanthan Kolanthaivelu moderated by Associate Vice-President for SPAG FINN Partners, Desiree Ann as they walk you through how you can venture into better options for heart disease treatments with the advancement of technologies.
The webinar took place on April 10th, 2023 at 8:00 pm to 9:00 pm on Zoom. Additionally, it was also streamed live on both The Star FB and The Star Events FB. If you missed it, don't worry! You can still watch the recording by clicking the button below.
For any queries, email us at events@thestar.com.my