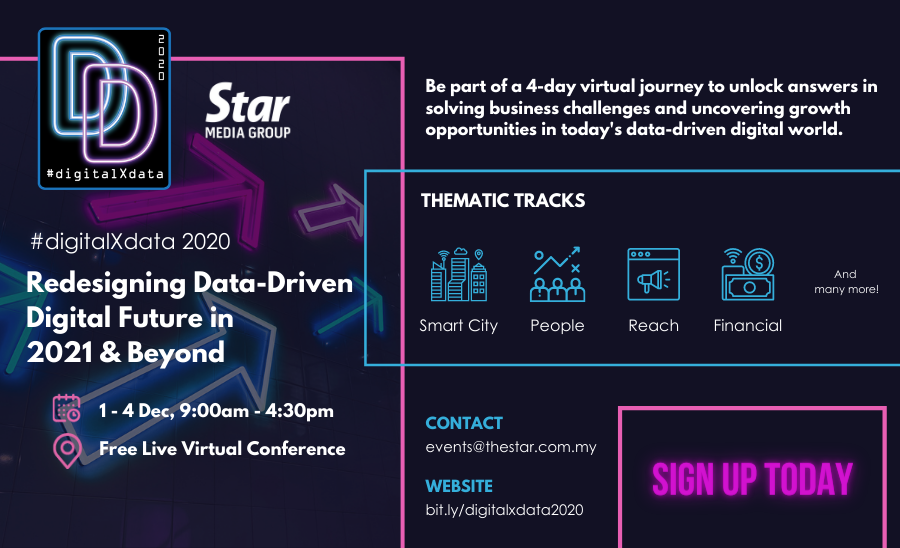 As we strive to rebuild & recreate to thrive beyond the new normal, businesses are rapidly transitioning and digitising their business processes to be better equipped in facing the next normal.
The Malaysian economy is expected to make a gradual recovery in the second half of 2020, as the economy progressively reopens. However, the outlook will continue to be significantly affected by uncertainties.
Join us in a 4-day virtual journey as we bring you 40+ industry leaders and subject matter experts in a timely discussion to unlock answers in solving business challenges and uncovering growth opportunities in today's data-driven digital world.
WHAT IS #digitalXdata 2020?
– Tech & digital market outlook & forecast of 2021.
– 8 engaging thematic tracks with industry leaders
– 4 power panels chaired by thought leaders and industry professionals.
– Over 30 thought-leading speakers and subject matter experts.
– Forward-thinking delegates from across industries.
– Ample interactive engagement opportunities between industry practitioners and tech experts.
– Easy access from all across the globe!
– Stand to win daily prizes!