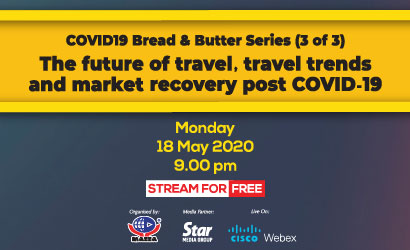 The COVID-19 pandemic brings travel to a standstill, causing massive job and revenue losses. When will there be light at the end of the tunnel for the Travel Industry?
This online forum aims to provide insights on how the Covid-19 pandemic is impacting the tourism industry alongside with the mitigation measures that we can employ immediately.
The COVID-19 pandemic has badly hit the tourism industry in the country and worldwide. Industry players along the tourism value chain especially those in the private sector, especially Small Medium Enterprises who have no cushion have lost out, job cuts have been inevitable.
What measures that we should adopt to reboot the industry when this crisis blows over?
Speakers:
Datuk Tan Kok Liang, President, MATTA
Datuk Musa Hj. Yusof, Director General, Tourism Malaysia
Mr. Mohamad Halim Merican, Acting President, Malaysian Association of Hotels (MAH)
Moderator:
Mr. Nigel Wong, Honourary Secretary General, MATTA
Who should attend : Tourism industry players, especially for travel agencies and tour operators, business owners.
Click here to Register