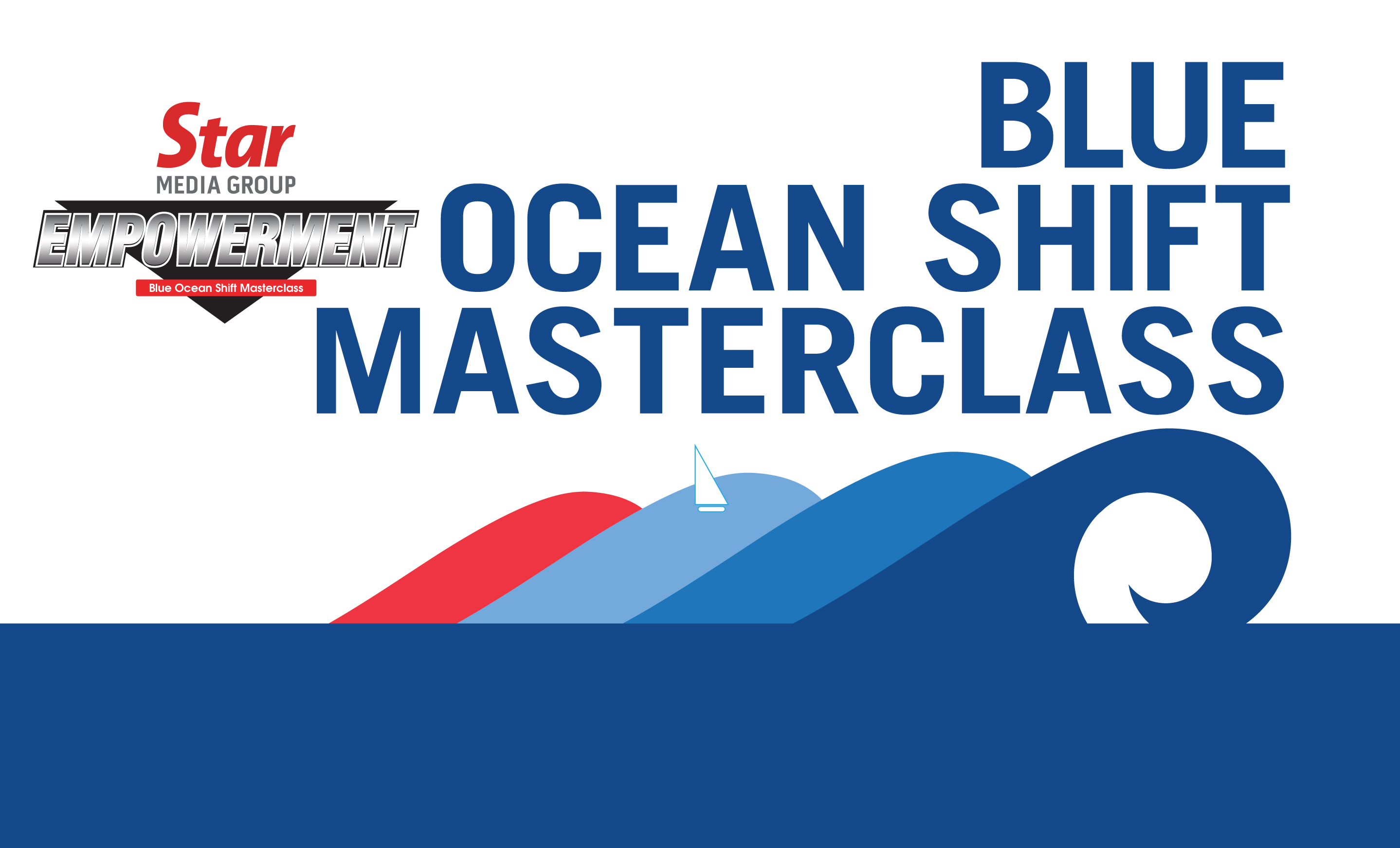 The full-day Masterclass will guide participants on how to move from red oceans crowded with competition to blue oceans of uncontested market space to bring new heights of confidence, market creation and growth to the organisation.
Participants will learn how to apply the process and tools to level up their business against their competitors. They will use tools such as strategy canvas, buyer utility map, six path framework and ERRC guide to understand the concept of Blue Ocean Shift. The class will cover the following areas:
How to think about strategy beyond competing

How to grow through non-disruptive creation

How to shape growth strategy to the organization's favour

How to create new market spaces, identify untapped growth opportunities and how to 

 avoid pitfalls
26 March 2019
9am – 5pm
Menara Star, Petaling Jaya
RM2,000 Per Pax
Register now as seats are limited. This workshop is also HRDF claimable.
To register kindly complete the Registration Form and email to events@thestar.com.my
For more information please call 03-7967 1388 ext 1436 / 1233
Programme Module
Session 1 – Introduction
Introduction to Blue Ocean Strategy & Blue Ocean Shift

Getting Started (Choosing the right place to start and the 

right team)
Session 2 – Understand Where You Are Now
Understanding the current strategy profile with the "As Is" Strategy Canvas

Understanding customer pain points with the Buyer Utility Map to create total customer 

experience
Session 3 – Imagine Where You Could Be
Discovering new potential customers with the Three Tiers of Non-customers
Session 4 – Find How To Get There & Make Your Move
Using the Six Paths Framework to explore and get insights / ideas with interesting case 

illustrations
Increasing buyer value and reducing cost by applying the Four Action Framework & ERRC G

rid
Who Should Attend
* Business Development Managers
* Business Owners
* Entrepreneurs
* Corporate Leaders
* Decision Makers
* Planners
* Analysts
* It is also applicable to individuals who are running an online business